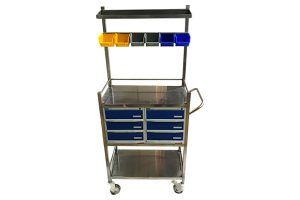 Our industries providing Crash Cart Trolley is very easy and relaxed move them has its advanced designed by our experts with caster wheels. Comparing to the other companies cart trolley, our ones are equipped with the more drawers for pharma materials storages and mainly we are creating this Crash Cart Trolley manufacturer with stainless steel materials for its robustness, corrode proof and scratch proof, etc. Get this product for your clinics at a very affordable price from us.
Standard Features of Crash Cart Trolley:
Over all approx. size
Six removable bin and two lockable storage drawers
Four 100 mm synthetic body castor wheel with two in lock and two without lock
Complete with powder coated oxygen cylinder stand and cardiac massage board
Stainless steel I.V stand
Manufacturer of Crash Cart Trolley –
We are a leading Manufacturer of crash cart trolley, SS Dressing trolley, instrument trolley oxygen cylinder trolley from Gujarat, India.