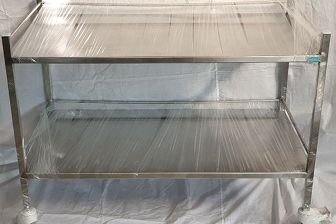 Our unit is manufacturing the latest variety of Instrument Trolley which is used for to carry the medical instruments from one ward to another at all the hospitals. Our trolley is smooth to move as we have equipped with the better class of materials and this is very simple to clean, quality checked, scratch proof surface etc. If you are thinking to buy our Instrument Trolley Manufacturer then contact us for our supply of products at your destination.
Overall approximate size is 750 * 500 * 900mm(L*W*H)
Stainless steel tubular frame structure mounted on 100mm synthetic body castor two in brake and two in without brake
It has two shelves with all four side protective railing(three side railing option available).
Instrument Trolley Manufacturer in Ahmedabad